Annual Convention will be held on August 24 & 25, 2013 at International Center 6900 Airport Road Mississauga Ontario Canada Insha Allah:
For more information visit: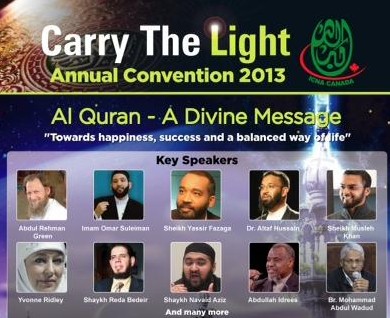 Al Quran – A Divine Message "Towards happiness, success and balanced way of life"
Carry The Light convention is an annual event organized by Islamic Circle of North America (ICNA) Canada Eastern Region. It is aimed at inspiring Muslims to implement the true spirit of Islam in their lives and invite others towards the universal message of Islam.
The convention is geared towards the youth and families featuring prominent speakers and activities under one roof at an affordable cost.
The convention provides a platform for highly talented and intelligent Muslims by organizing various exhibitions in the areas of Education, Finance, Art, Medicine and Health, Sports, Literature, etc.
The purpose of this convention is to provide avenues for Muslim Community in Canada for personal excellence in faith, worship and morality. It is also a platform to share the basis for moral, social and economic development of Canada with Canadian society at large.
Mark your calendars and reserve your seat. For more information visit http://www.carrythelight.ca/
Click Image Below to See the Final Flyer for More Information.