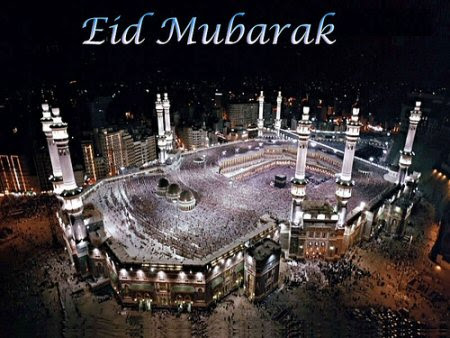 "Eid Mubarak to you and your family".
All praises are due to Allah (SWT) who is the RAB of worlds – May Allah SWT have blessings and peace upon His last Messenger.May this Eid ul Adha brings blessings of Allah (SWT) to have peace and harmony in this world and open the doors of success for all of us in the hereafter.
Also please note Fiqh Council of North America's Announcement of Eid al Adha 1435/2014 below:
"The Astronomical New Moon is on Wednesday September 24, 2014 at 6:14 UT. September 25, 2014 is the 1st day of Dhul Hijjah 1435. The day of Arafah – the main day of Hajj – is on Friday, October 3, 2014 and so the Eidul Adha 1435 is on Saturday, October 4, 2014.
The Eid al-Adha date is also in accordance with the Hajj authorities announcement of the Day of Arafah which is on Friday, October 3, 2014."